Corporate Restructuring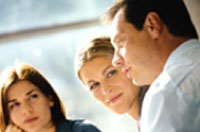 Markets are becoming more competitive and organisations constantly struggle with a long list of ever changing challenges.
In an economy like ours where most of our industry is service based and the major resource is people, it is not easy for organisations to find new ways of becoming more competitive and productive. Asking people to work harder is simply not enough.
We will help organisations critically analyse their current situation and develop a plan to address these issues. This could be done via various methods such as company reorganisation, skills redeployment, training, recruitment, performance review systems and quality management systems.